WorldCard Contacts A Contender To Native iPhone Contacts
WorldCard Contacts iPhone App. Collecting a bunch of business cards from your clients isn't that easy to manage all those contacts and probably we might lose some of those contacts. So how to get rid out of it? Pen Power Inc has launched an app for iPhone called WorldCard Contacts to provide a solution for struggle to manage their business card contacts.
WorldCard Contacts is an iPhone app aimed to organize your contacts into groups to easily identify the contacts by grouping it under business, personal, colleagues, etc., The app has essential features that may replace iPhone contact and WorldCard Contacts does all the functions even without redirecting to the iPhone native contacts.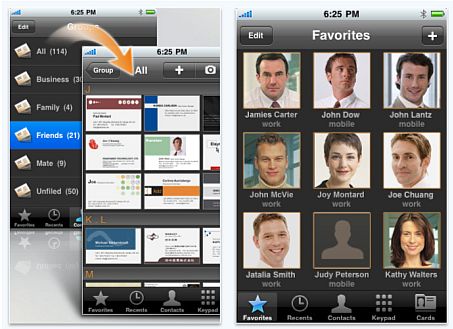 WorldCard Contacts has recently announced updates which includes:
• Support for iPhone 4
• Supports iOS 4
• Merges with iPhone contacts database.
• Supports multiple languages UI (English/Chinese/Japanese/Korean/French/German/Italian/Spanish/Portuguese/Dutch)
Well, all these features are quite necessary and since iOS 4 is out in the while and developers are tweaking their apps to support iOS 4, this sounds really good.
Managing business card contacts is always a tough job, but WorldCard Contacts makes your work easily using its features. So, when open the app, it imports your iPhone contacts and it can be used as an iPhone contacts alternative. The reason being is its simplicity and features that helps us to easily manage the contacts. Let me list out the features offered in WorldCard Contacts
• You can create favorite list for making quick calls
• Group you phone contacts with respective names
• Call, text or email anyone in your contact right from the appreciate
• Add photos to the contacts to easily identify
• Powerful search to search with the contacts
• Using Cards features you can add business card details by just talking photos using your iPhone camera.
The WorldCard Contacts app is easy to customize and almost has every possible features to manage your contacts effectively. So why wait, just get it download for your iDevice.
Grab this great Contacts App for iPad, iPhone and iPod Touch here.