Traffic Rush is a game application for iPhone or iPod Touch by Donut Games. It's rush hour in the game with vehicles crossing an intersection like crazy. It's your job to keep traffic moving without causing crashes. To do this you must keep the vehicles crossing the intersection by stopping them for a short time or increasing their speed. If this is done with poor planning your traffic directing days may be cut short. It has a very simple opening screen with only start, options, and more games buttons. Options really only allow you to see fun stats of your game playing, credits, and global high scores.
Starting the Traffic Rush game brings out just a few vehicles in a clean looking intersection with a few buildings on each of the four corners. Vehicles range in size from some longer semis to a few putting along on motorcycles. Swiping your finger over a vehicle in the direction that they're going has them speed through the intersection. Tapping the vehicles stop them for a short time. These two options are used in conjunction to keep traffic flowing through the intersection without running into one another. Allowing you to speed through a couple vehicles while the other direction wait patiently (seemingly!) on the other side.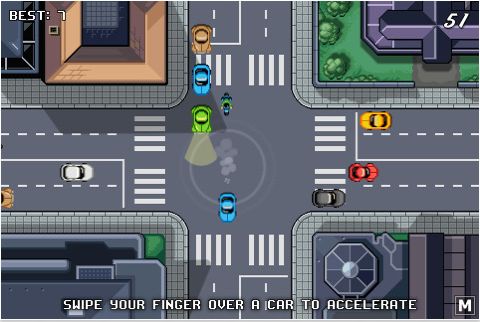 Traffic Rush iPod Touch Game has nice quality music and effects sounds and is very clear and precise with the controls. As more time went on more and more vehicles were added to the mix increasing the difficulty and the speed in which you must think and decide how best to get all the vehicles where they're headed. If at any point you fail to stop vehicles from colliding the game is over and stats of your current game and some previous games are displayed giving you a better idea of how you did compared to previous attempts.
Download this Great and Free Traffic Rush Game App for your iPhone or ipod Touch here.