Booooly iPhone App. Booooly! is a iPhone game by the Korean developer, NextApps. This game fits into the match-three puzzle genre, but offers a unique and fun twist to the game, quite different from what we usually see in these types of games. Ultra competitive multiplayer options like Open Feint support, online leader boards and allowing you to add and compete against your Facebook and Twitter friend's gives you a great game for only $.99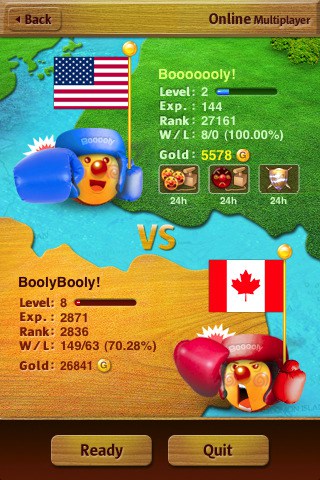 When you start the Booooly iPhone game you immediately notice that the developer put a lot of effort into designing the animation with cute characters and sounds. The crisp look and zippy feel gives you the impression that Nextapps really put a lot of thought into designing a superb game for the iPhone and iPod Touch.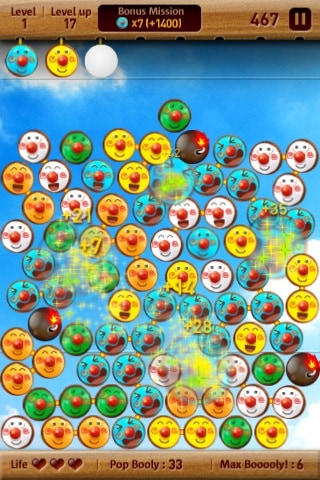 The beginning starts with a group of booooly's, which has different colors and varying cute facial expressions. This is where the unique part of the game begins. The objective of the game is to make a match-4 or a Booooly. Simply tapping on 3 of the same colored Booooly's will help you accomplish basically nothing except finishing the game earlier than expected.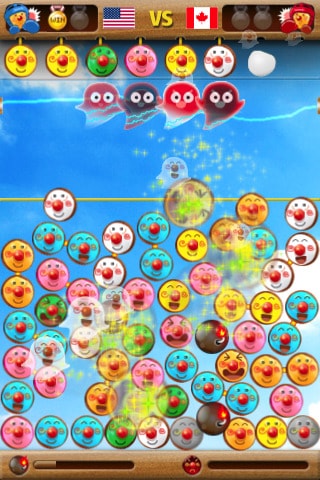 The Player's purpose of the game is to get booooly's to move onto the next level. As you progress in the game, the game speeds up, adds booooly's that you can't eliminate (bad booooly's), and missions that push you to make series of successive Booooly's and even making a match 8.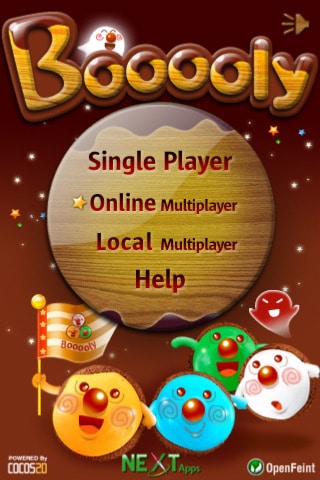 Nextapps creatively developed a unique weighted physics engine to the game that added a somewhat realistic feel to this puzzle. The booooly's run into, cram and jam into each other like they would if you dropped a bunch of bouncy balls into a large box. This adds a strategic element into the game as it makes you think of where you should eliminate your booooly so you can ultimately make that match 8, or accomplish other missions or bonuses.
Multiplayer is where Booooly shines. When you create your account, you are given gold balls in which you can buy things to help you in your multiplayer campaign, like an electric shield to give you a few extra seconds in helping you match more Booooly's. The quickplay option automatically set up competitive matches with other Booooly players, and winning and losing these matches determine how many gold balls you win or lose. I noticed that some players had hundreds and sometimes thousands of games in their record making me realize how addictive this game is.
With OpenFeint Support, you can submit your scores and achievements on the leaderboards. One feature that I really liked was the Twitter and Facebook support. I could add my Twitter and Facebook friends and play against them; also my scores and achievements would be automatically streamed to my Twitter and Facebook account. One of the new features gives you free gold when you comment on Facebook or Twitter but that is only available when you are below 50 gold balls and I haven't gotten to that point yet. But if you are in dire need of goldballs you can purchase more in the game for $.99/$1.99 or $3.99 respectively.
All in all, I think this is a great game because of the intelligent game physics engine, excellent multiplayer options and overall excellent design in this iPhone game. For only $.99 one cannot complain and if you are looking for an exciting, competitive and addictive single player and multiplayer iPhone puzzle game than I highly recommend Booooly!
Grab this great iPhone App here!