Not content with the display of your Mac? Well here is good news for you. Apple will be releasing its newest creation – Thunderbolt! It is the hottest LCD display in town today. If you want to know more about it, better read on to find out.
There are different reasons why a user would need a bigger display than what their Mac has to offer. Some need the display to get a better look at their work, others need it to have a bigger work space, and finally, others just feel cramped over the small display of their Mac notebook. If you feel the same way, then you don't have to trade your smaller Mac with a new one. You just have to get a display. In this case, you might want to consider Thunderbolt.
Thunderbolt's Features
Thunderbolt is a top of the line 27-inch display with a 16:9 aspect ratio. Other users would benefit from the Thunderbolt as well. If you're going to watch a downloaded movie with your friends, then how does a 178-degree viewing angle sound to you? Moving on with more specs of the Thunderbolt display, it has a lot of built-in features for convenience. With less wires involved, the Thunderbolt has a built-in camera for video conferencing, a built-in audio system, and a charger to power up your Mac notebook while its connected to your display.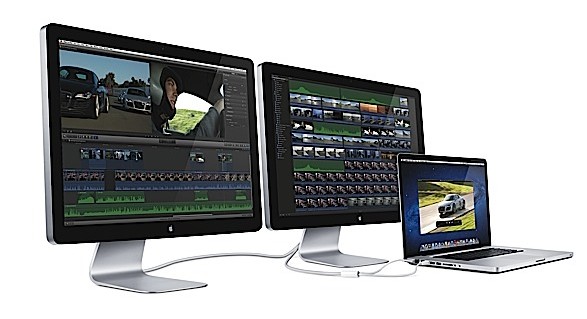 Speaking of wires, it enables different ports. Own other devices that you need to sync with your display? Then, the Thunderbolt has different ports: it has three USB 2.0 ports, a firewire 800 port, and a Gigabit Ethernet port. Aside from those already mentioned, it still has other ports which enables you to connect your Thunderbolt to five more Thunderbolt displays to create a daisy chain of displays.

Thunderbolt uses an advance technology, wherein it uses just a single connector, but 2 channels are already on this connector which lets you access the data at 1gig per second. in both direction! This works at a rate of twenty times faster than other displays.

It is so fast, so clear, and so efficient that it could almost top the cinemas already watching a movie via Thunderbolt. With this in mind, you can say that this display was built for those in the visual arts , graphic arts, and film making industry.

A word of caution though, Thunderbolt doesn't come cheap. It's one of the best displays ever created in the world, and with creations like this, it's understandable that it's going to come in quite a heavy price. It's going to sell at $999.

What's you're stand on the newest display? Are you going to splurge almost a thousand bucks for a Thunderbolt? Or are you just going to get yourself a much cheaper display. The bottom line is, if you really need this kind of display in your work, then go ahead. It's going to be a great investment. On the other hand, if you're just an ordinary user, then it's recommended to wait for its release and reviews first before pre-ordering, not unless you have  a healthy bank account.

Whichever way it is, you still have two months to think about it. It is said that Thunderbolt is going to be released at approximately 60 days from now.

About the Author: