Stop flipping through all of those individual calling cards that are in your wallet, and stop wasting money on huge phone carrier charges when you're trying to call someone overseas, or just long distance. Now the iPhone Calling Card app will sort through all of your cards for you, store numbers, and even tell you the time it currently is in the region you're calling. If you make a lot of long distance calls, and want to stop wasting money on them, and have actually making those calls be a whole lot easier, this is an app you need to get!
When you get the iPhone Calling Card app, you'll be able to store all of your different calling card numbers in one place. And of course, it works with your contact list, so you don't have to separately look up individual numbers either. And, just to take the confusion out of it for you, this app will even search among your different calling cards and choose the best one. It will just look at the number and from there detect what area you're calling. Then it handpicks the best card for you to use. And, you don't have to worry about long distance prefixes either such as the +1 symbol. This app recognizes them and uses them when calling. So you don't have to go through any hassle to make a call.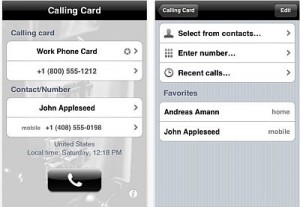 Those are just a few of the gem features that are hidden in this app. The Calling Card app for the iPhone will also automatically dial any number for you, even if there are a few menu choices you'll need to make along the way. And just to make sure that you're not calling at some unearthly hour, there's always that handy time zone feature, that tells you what time it is wherever you're calling.
The only downside about this Calling Card app for iPhone is that it's not free. But, it does only cost $1.99 and with all the money and hassle it will save you, it's definitely worth a couple of bucks.