Did you ever enjoy Runescape? Love the word free? Soaring high at the top free iPhone app is Bouncedown. Jagex has created a new, addicting iphone application that will keep your hands glued to your iPhone, and your butt onto your seat with Bouncedown on your screen.
You'll always be wanting to beat your high score with Bouncedown game for iphone. Remember those iphone arcade games that kept you hooked because you wanted to beat high scores, and you cashed yourself out in no time? Bouncedown is an example of one. Formerly made for the PC, it was brought to the iPhone and iPod Touch in anticipation of becoming another hit. Taking the simple concept of jumping up platforms, they turn it into a steroids injected game that will keep you playing for hours. Simple games like Bouncedown can keep you entertained on the bus, the train, without draining your pocket of its oh-so-valuable money.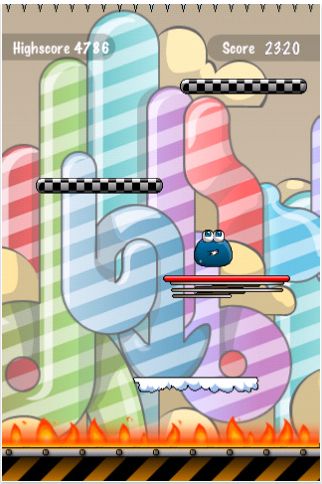 With the price of free, who can say no? Some can. Even though it was made by respected developers who brought to you the most popular web-based game, every iphone application has their own share of bugs, and suggestions that need to be made. Simple things like making the start of the game a bit faster, or it can be as complex as changing how the game works. The tilt controls of the blob are a bit insensitive, as you have to basically tilt your iPhone to degrees unwanted to be able to move it efficiently to stay alive. However, with frequent updates, BounceDown iPhone Game is completely promising.
Made from the people who brought you RuneScape, it gives you the joy of beating your high score over, and over again; with lots of potential, and immediately addicting, it will be the first application you open every time you sit down with your iPhone. Download this Great arcade game for your iPhone or iPod Touch here.