While many hours of sleep have surely been lost on addictive iPhone games thereby leading that grand sleep deprivation, did you know you could use the App Store to improve your well being as well? We've found some of the best apps for healthy living, including tools for relaxation, fitness, nutrition, and better sleep. Take a look and put that iPhone to work!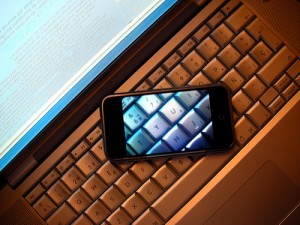 Relaxation Apps
Relaxation remains an important part of health, as stress is tied to everything from weight gain to insomnia and heart problems. There are many apps available for stress reduction via hypnosis, calming sounds, and even breath training. Here are a few of the best.
Relax Deeply – Free
This app provides a 20 minute hypnosis recording to guide listeners to a state of deep relaxation. The session is provided by Darren Marks, a professional UK hypnotist, who offers a variety of other hypnosis programs as well. The 20 minute timespan makes the "Relax Completely" session perfect for capitalizing on a midday break, and you can even use it to help fall asleep. The app also has customizable images and a built in alarm to wake you up at a set time.
Breathing Lessons – $4.99
Think you know how to breathe? Think again! This app is designed to train you on the art of deep breathing, a habit shown to improve calmness and health.The app features a breathing trainer that uses the microphone to gauge breathe duration. Customizable timing and verbal cues help you develop habitual deep breathing. Also included are 8 videos on breathing and posture and weekly tips. While the app is on the pricey side at $4.99, it has received five star reviews thus far. Another app, called Long Deep Breathing, is only $0.99 and while less featured may be preferable for those looking for cheaper options.
Diet & Food Apps
Whether maintaining or losing, visual tools that help you manage your diet can help keep you on track and accountable. Locate healthy food options, keep a food diary and find healthy recipes with these helpful apps.
Lose It! – Free
This popular app contains multiple handy tools to help you get in shape. The main feature is the food diary, which allows you to log and track everything you eat. Being able to see your calorie, protein, carb and nutrient intake instantly is very helpful for achieving fitness goals. The program offers a preloaded database, manual entry, and a barcode scanner that pulls the data of most store bought foods. You can also log exercises, set diary reminders, and share with social features.
Fitness Apps
Your iPhone can truly be your best friend at the gym. Aside from your favorite tunes, you have a pedometer, timer, motivational coach, fitness instructor and more, all in one device. Use these apps to cut the clutter and encourage you to meet your goals.
MapMyRun GPS Running – Free
This popular and highly rated app is perfect for people that like to run or walk outdoors. It allows you to map out routes, and tracks a variety of stats including distance, pace, elevation and more. Voice prompts keep you updated on your progress and allows for background music to keep you entertained. With over 50 thousand reviews and 4+ star rating, the app is worth a try – just make sure you will be able to charge your phone after as that is the biggest complaint. They also provide an online community with routes and social features as well via subscription. Walkers and cyclists may appreciate the other apps in the MapMyFitness collection as well.
Pedometer FREE – Free
If you are looking for a simpler app to track your steps, Pedometer offers a good free solution. This app uses the iPhone's GPS to track your steps, speed, pace, workout times, and burned calories. It also includes a body tracker that lets you monitor weight and BMI on a daily basis to see your progress. This app was featured on the Dr. Oz show and has a 4+ star rating on over 10 thousand reviews.
Simply Yoga FREE – Free
This app offers a variety of classic yoga poses instructed by a professional personal trainer, via video and audio. The demonstrations and instructions enable all levels of people to experience the benefits, and users give it an average rating of 4.5 stars. The free version includes over 30 "level 1" poses with 3 preset routines and built-in timers for 20, 40, and 60 minute workouts. More advanced users can purchase additional poses as well. The Simply Yoga app offers a great alternative to pricey DVD's or text instructions, and is as portable as it gets.
Sleep Apps
Even when it comes to sleep, there's an app for that. White noise and comforting nature sounds can help clear your mind and reduce sleep-stealing distractions. There are even advanced alarms available to help identify sleep interruptions and wake you at the optimal phase of sleep in the morning. Couple it with one of the best mattresses made with memory foam and you're good to have a perfect sleep cycle. Check the Sleep Apps below.
Ambiance – Free
Sound sleep proves vital to physical and mental health for every single person. Sometimes though, getting to sleep or staying asleep can prove difficult amidst cluttered minds and noisy environments. The Ambiance app allows users to listen to a variety of soundtracks, including a variety of white noises, nature sounds, urban sounds and electronic sounds. Reviews for Ambiance are largely positive with an average 4.5 star rating. The app comes with a few basic sounds, but offers a very large library with hundreds of additional free tracks for download. The free version only holds up to 10 at a time, but still allows users to mix tracks, save favorites, set custom timers and alarms, record sounds, share and more.
Prodigy(tm) by Leggett and Platt – Free
Those with the Leggett and Platt Prodigy™ adjustable bed can truly take control of their sleep using this custom iPhone app. Truly advanced, the bed has an optional connection unit that allows users to control the functions from their phones. It includes head and foot positioning, precise massage controls, and presets for favorite positions. Advanced features include a sleep timer to gently move the bed into your sleep position at a set time and snore controls to adjust the bed and quiet snoring partners. This app does require the Prodigy bed for operation (sorry, it won't move your boxspring!).
Sleep Cycle Alarm Clock – $0.99
Making innovative use of the iPhone's accelerometer, this app claims to monitor your sleep cycles, alerting you to sleep problems and waking you during the optimal sleep phase in the morning. With over 40 thousand near 5-star reviews, it is well-liked among downloaders. The Smart Alarm works by waking you within a 30 minute window you set, when you are in your lightest sleep phase. Waking in a light phase versus a deep phase will allow you to awake more well rested and less groggy. In addition, it allows users to customize the alarm settings, enter notes, and see changes over time.

With these great apps and hundreds more, your iPhone can serve a valuable function in keeping you happy and healthy. While it can't give you a massage or zap fat (yet, since really geeky and awesome beds are popping out left and right) it can help you stay organized, stress-free, and on track to meet your fitness goals. Do you have any favorite apps you use to stay healthy?

About the Author: