Buffalo
RUF3
–
HLTV
,
flash
Cleaning
Computer
Virus
–
stick
has always been
an inseparable
friend
for us
computer users
.
And virus attacks
were increasingly
growing
and
increasingly
sophisticated
as well
as the development of
increasingly
advanced
technology
.
To
overcome
this problem
,
in cooperation
with the
Buffalo
antivirus vendor
,
Trend
Micro
,
to
create
RUF3
–
HSLTV
Buffalo
Series
.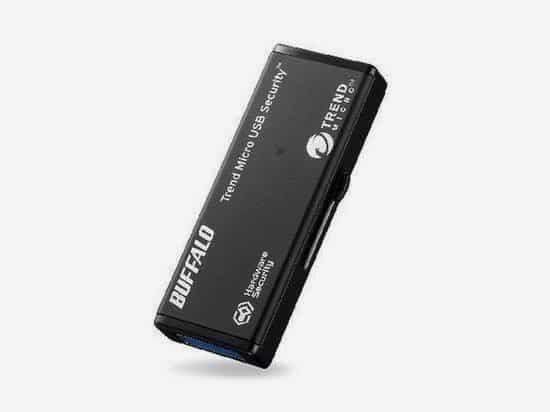 Buffalo RUF3-HLTV, flash Cleaning Computer Virus
Buffalo RUF3-HLTV, flash Cleaning Computer Virus – The use of Trend Micro antivirus on flash is the goal for these devices are not infected with the virus that originated from a PC or laptop with a virus.
When plugged into a PC or laptop, Buffalo RUF3-HSLTV series will automatically perform a virus scan.
If a virus is detected, it will be immediately addressed and eliminated so connected to the Internet.
In addition to anti-virus features, Buffalo RUF3-HSLTV series also has a safety feature with standard AES-256 bit encryption.
If the data is transferred is large, you do not need to worry because the flash disk, supports USB 3.0 data transfer time capable of so much faster.
Buffalo RUF3-HSLTV series currently still available in Japan with a choice of 4GB to 32GB capacities.
The standard model can be selected Trend Micro licenses are 1, 3 or 5 years.
Buffalo RUF3-HSLTV capacity of 32GB with standard 1-year license, for its price 25.410 yen or about Rp2, 9 million.
Until now we have not found the information whether this product will be available in Indonesia.
A few information about Buffalo RUF3-HSLTV, Flash Disk Cleaning Computer Viruses, hopefully this information will increase our knowledge together.
Thank you
Buffalo RUF3-HLTV, flash Cleaning Computer Virus