I have had this Apple 32GB iPod Touch for about 1 week so far and I am happy about the purchase. I checked out the best buys in apple store and this one was the most attractive. I ordered them online and I love it so much. The IPod comes in sleek and compact black silicon case which is fit for the new iPod touch and covers the volume buttons also. It comes along with a cover for bottom of iPod for inserting the USB plug and protecting the iPod from dust as well as other particles which is a good advantage.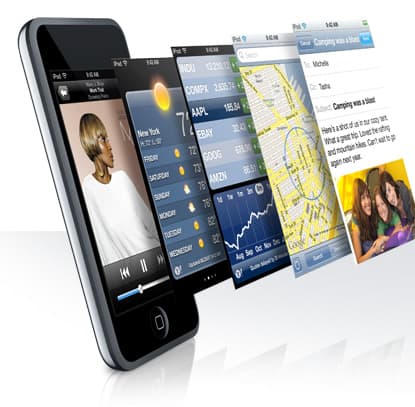 I have upgraded it from a 2nd generation 8GB iPod Nano since I needed an iPod with more space for storing all my favorites. The battery life was good and it can withstand only 36 hours for non-stop music. The 32 GB flash memory of the iPod touch is awesome and the songs get downloaded in jet speed. I have enough space to put all my favorite audios as well as videos.
I also got the album artwork from the iTunes library and it is very interesting to flip through the images in this iPod Touch with crystal clear picture quality. The WiFi feature is pretty cool in the Apple iPod Touch 32GB and I love to use it while I travel. But it does use lot of battery power so we cannot use it for long time. But it is much helpful when I am away from my computer and especially for reading some music news while travelling. Youtube videos are superb to watch and I use it to check my personal mails when I am on the go. The quality of Youtube videos are exactly same as what we see in our computer.
It is easy to set remainder which is also a good feature which was really helpful for me since I forget lot of things. Small drawback is there are no separate buttons for fast forward as well as rewinding and track changing because if these buttons are available it would be easy for me to do everything by placing the IPod in my pocket. I am sure that Apple would release in-ear phones which have the track changing and volume control options in them. The automatic brightness adjustment is good and the itouch applications given in the Apple 32GB iPod Touch are diverse and totally useful. I love this product so much.