Top Six Programming Apps For Your iPad for 2018
Top Six Programming Apps For Your iPad for 2017 – AppleRepo.com,  Are you trying to develop your own iPad application? It is the best time to get started with developing your own app that has your desired features and functionalities. Today, there are enormous tools, applications and other resources that can help you to develop an app quickly.
Not only these tools will make it easy for you to develop apps, but these tools ensure that you develop a great application at least time.  However, iPad is not the right hardware choice for programmers and there are various developers, who are making their apps compatible with the iPad and the result is not bad.
To make it easy for you to build an iPad app with requisite features, we have mentioned top six programming apps for your iPad, so you can use these apps and get huge help in development.
Let's Get Started With Top Programming iPad Apps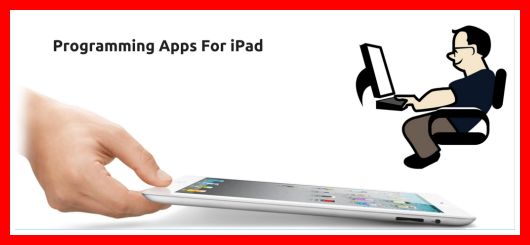 Coda is originally a Mac editor, but it now delivers an advanced iPhone and iPad text editor. The application supports syntax highlighting for Apace, C, HTML, Go, CSS, PHP, Python, JavaScript, Perl and more.
Moreover, this application comprises local and remote file management and various other remote protocols like Amazon S3, SFTP, DreamObjects and more. It also includes Clips that a simple way to store and repeat commonly used bits of code.
OmniGraffle 2
OmniGraffle 2 is the best diagramming package for the iPad that is useful for site planning. Now, it becomes a lot easier to create an instant diagram, process chat, website wireframe, page layout, etc. With this application, your iPad touch screen is your canvas, so you can draw that best meets your app's needs.
The best thing about this app is that it knows what makes a diagram different from a drawing, so it knows how to help you make wonderful docs instantly.
It allows users to draw shapes and drag different objects along with delivering smart guides that would help you to optimize your diagram in flash. In addition to this, users can also get the advantage of in-app purchases that aims to serve shape combinations, Visio and tables support.
Pythonista 3 is an advanced scripting environment for all those, who are using Python compatible with iPhone, iPad and iPad Touch. Requires iOS 8, this application delivers syntax highlighting, code completion and support for Python 2.7 and 3.5.
Running directly on your iPad or iPhone, Pythonista allows users to use all the language improvements in Python 3, whereas still having 2.7 available for backward compatibility. Moreover, it also features various third-party modules, like Bottle and Flash modules, SciPy, with NumPy and Matplotlib integration for scientific visualization, BeautifulSoup and more.
Allowing users to write scripts that access motion sensor data, contacts, reminders, photo library and more. Furthermore, users can also use Pythonista to develop interactive multi-touch experience, 2D games, custom user interfaces, and animations.
JavaScript Anywhere is a widely popular development environment on iOS since 2010. Being a simple yet feature-rich app, it allows writing JavaScript, HTML and CSS source code. Now, you can easily edit JavaScript, HTML and CSS code from your iOS device and preview them in the internal browser.
Equipped with a range of features like import project/download images from the web, password lock, export to/import from the desktop, preview on the internal browser, show console logs or errors and more, this application is simple to use that configure editor style.
CodeToGo is now used to run more than one Million programs. You can write and run code in your favorite programming language using your iOS device. The app supports all the iOS devices.
So, you can just pick your language, write some code and run it. Each language of it has its own example "Hello World" program for you to test. It offers you an API across ideone.com, enabling you to run code in different programming languages and get the results back.
Moreover, it also supports supplying input for your program, so you can just hit the "Input" tab to set the user input, then you can hit the code tab so that you can go back to write code. The current code for a given language is routinely saved for you, so you can save and later load different files for each language.
AppCooker is widely demanded application that enables you to mock up iPhone, iPad or Apple Watch, so you can preview them on devices with a free companion app that called AppTaster. This application needs iOS 8 and iPad as its designer doesn't work on iPhones; however, you can design iPhone apps with it on iPads.
As it is using iOS 8 controls for its mock-ups, it requires iOS 8 to run and it doesn't require any coding that makes it handy for beginners. So, you can adopt this tool and make app easily.
So, these are the top six programming applications for your iPad that you can adopt and make developing an app a lot easier. Moreover, you can also get in touch an experienced iPad app development company that has a veteran team of iPad app developers to comprehend your needs.