TopApps World iPhone App – The Key to the Big Wide Universe of iPhone Apps
TopApps World iPhone App – The Key to the Big Wide Universe of iPhone Apps
ELMSHORN, 16th June 2011 – MojosStudios, experienced publisher of
sophisticated apps, is proud to announce its latest development
TopApps going global: TopApps World offers up-to-date recommendations for the latest and greatest iphone, ipad and ipod touch apps of the world and a useful price radar, which helps customers to track prices and buy apps at a bargain price.
"TopApps' experienced geeks are out there finding and checking
dozens of spanking new apps every day," promises Boris Raczynski,
managing director of MojosStudios. "The very best apps are selected
and our dedicated editorial team produces in-depth reviews and
detailed descriptions."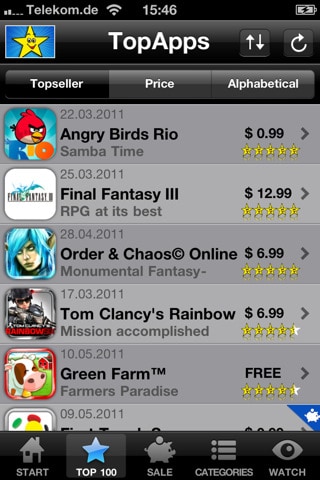 As Raczynski goes on to explain: "The cherry on the cake is the
innovative price radar of TopApps World: If you like an iphone app, you can add it to your watch list. If this iphone app drops in price, you will receive a push note and can purchase the app at a bargain price. This way TopApps World will pay for itself in less than no time."
TopApps World is available for free in iTunes App Store. Download TopApps World for iPhone, ipod touch ans iPad Here.
TopApps World was tested on all iPhones models 3, 3GS and 4 plus on
iPod Touch 4 and has a lot to offer: More than 200 reviews will be
available right from the start and every day new reviews will be added
– without any subscription needed, of course. TopApps World gives
its users helpful reviews by experienced experts. The up-to-date Top
100 shows the best apps, sorted by rating, date, price or in
alphabetical order. All featured apps are sorted by category for extra
clarity. TopApps World also includes special offers and shows the best
apps at reduced prices. Additional features include a watch list of
all selected apps at one glance as well as a push note, which is
generated whenever one of the apps on the watch list drops in price.
Last not least a search function offers quick and efficient help.
About MojosStudios
MojosStudios is one of the leading iphone app development studios in Germany and has worked for numerous reputable clients as a consultant and app developer. Eight years of experience in the mobile market make MojosStudios one of the top companies in Germany. TopApps World is MojosStudios' first globally published product.
MojosStudios Contact:
Boris Raczynski
Managing Director
Tel. +49 4121 642 240
Mail: [email protected]
For additional information, please visit www.mojosstudios.com