Dieting is something that has become the bane of many peoples' lives, namely because they have made umpteen attempts to lose weight but have failed miserably for one reason or another. Losing weight successfully is something that requires preparation, and you need to make sure that you have the tools and resources that can help you in place before you begin.
One tool that can really help when it comes to losing weight successfully is a quick and easy means of logging and tracking your nutrient intake and exercise credits. This can help you to keep on track, and can boost your chances of losing the excess weight. Edibles is a very innovative weight loss app that can help you track your nutrient intake and calorie usage, so you can really focus on your weight loss and work towards reaching your target weight.
How Edibles iPhone App Can Keep You on Track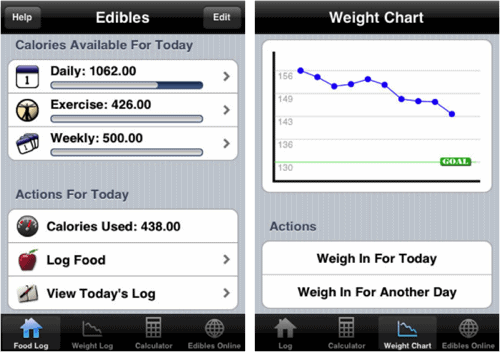 When you lead a busy lifestyle it can naturally be difficult to spend lots of time writing down what you have eaten, working out how many calories you have consumed, and trying to keep tabs on your weight loss. When you think about all of the other factors that you have to take into consideration, such as how many calories you may have used in exercise and trying to remember how many calories you have left, it is no wonder so many people give up on their weight loss program.
With Edibles iPhone app, which is an innovative, easy to use, and invaluable weight loss app for the iPhone, you can track your calorie and nutrient intake with ease, factor in how much you can deduct for exercise, check your daily or weekly allowance, and monitor your weight loss and progress quickly, easily, and conveniently.
Amongst the benefits that Edibles App will offer to those looking lose weight are:
• The ability to track calorie intake and have this deducted into the weekly or daily allowance.
• The ability track the intake of other nutrients such as carbs or protein.
• Being able to factor in calories burnt through exercise, which are then factored into the overall allowance.
• A user defined database of your favorite foods to save you time.
• The ability to calculate additional nutritional information with a programmable calculator.
• A chart feature that allows you to see your weight loss progress at a glance
• The ability to check weight loss statistics including your BMI, current weight, average lost, and total lost
• Automatic calculation of your calorie requirements.
When you imagine the variety of tools and resources you would need to benefit from all this without the help of the Edibles app you can see why it is such a popular app amongst those that want to lose weight without spending all of their time calculating, writing things down, and working things out manually.
Edibles Can Make Losing Weight Easier
Let's get one thing straight – Edibles is not a miracle worker that will give you the stamina and willpower to lose weight. However, it is a significant aid for those that want to lose weight without dedicating all of their time and energy to number crunching and scribbling things down.

With the Edibles app you have one very handy, easy to use dietary aid that can help to take the hassle out of weight loss, which can go a long way towards giving you the motivation and energy to keep going with your diet until you have reached your target weight. You can download this app from iTunes or the Apple App Store for just $4.99.

The fact that the Edibles iPhone app is so easy and convenient to use is one of the things that I love about it. I feel I have a great resource in the palm of my hand with this app, and it becomes so easy to keep track of my diet and monitor my progress.

Download Edibles App for iPhone and iPod Touch here.

Guest author Matthew enjoys exploring and reviewing interesting health-related iPhone apps and offers a savings code for Diet To Go, a health diet meal delivery.

About the Author: