Everybodies favorite holiday crank the Grinch is making his way to the iPhone in the Christmas themed game called creatively Grinchmas.
The Application is now only $0.99. The Grinchmas iPhone application allows you to choose between being a Mean Grinch or Merry Grinch. The mean Grinch throws snowballs at the townspeople from up on top of a hill and the merry Grinch throws Christmas gifts to to all of the towns people. Note the difference between throwing snowballs AT the townspeople and throwing gifts TO the townspeople.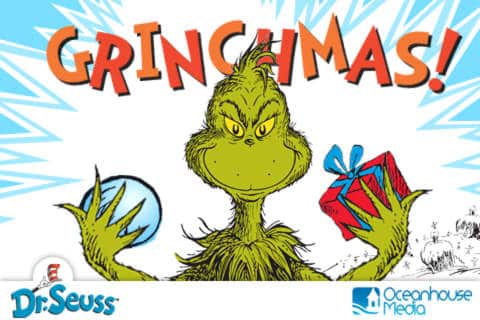 The Grinchmas! ios game is a very simple game, with only the two game modes. However it does feature a great artistic styling that is the perfect homage to Dr. Suess's original art style. The graphics are 3D and allow for a very crisp and smooth experience.
The game has already gathered a few titles to showcase on it's virtual shelf, including being a top ten paid app for December 2009, the #1 children's app for December 2009 and the #2 family app for December 2009.
The publisher has done a really great job for such a simple game and releasing the e-book of "How the Grinch Stole Christmas" along with the Grinchmas iPhone game is a great marketing tactic and is sure to bring many long time loyal fans of the Grinch back for some green Christmas fun.
The Grinchmas iPhone app is available immediately in the iPhone App Store. Grab this iPhone Christmas Application here.