How To Fix IOS 8.1 Frozen During Download – www applerepo com, It is definitely very frustrating to experience a freeze as you are downloading something. Be it a musictrack, a video, or a podcast file, it can be quite troublesome and annoying. However, what is even more annoying is when you experience an iOS 8.1 frozen during download with a system update. Normally, users should be excited to see and apply a system update since it offers solutions such as bug fixes. A new update also typically brings with it new app features which understandably excites most users. However, this excitement goes away once you experience an iOS 8.1 that is frozen during download. So how do you prepare for such an event? And how to you correct it when it happens? Here are some tips to help you fix iOS 8.1 frozen during download.
Common Problems And Tips To Help You Fix IOS 8.1 Frozen During Download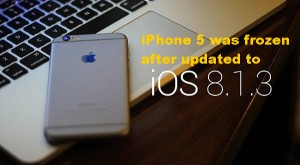 Updates Over-The-Air. An update using the over-the-air method can cause your iOS 8.1 to become frozen during download. In this situation, the faulty download of the software update might be caused by the inability of your device to reach the servers for update. For instance, if your device has a poor connection to the internet, you should make sure to correct that before you proceed to the system update. Also, keep in mind that an error might take place if your device has insufficient space for storage when you attempt an update. On the other hand, there are times when your download might just be delayed and not in fact frozen. Just give it some time and eventually, the download just proceeds and the update finishes later on. However, if the download does not go on, you should consider restarting your device.
iTunes Update Method. One of the most recent and common errors when downloading is when users try to update by using iTunes. Typically, the error you will receive will indicate that iTunes could not connect to your device. Also, it further points out that your session ID is missing. When you see these messages, it usually means that the problem you are experiencing is due to the bottleneck on the servers of Apple that is providing your download. Once these problems occur, you will find your iOS 8.1 download freezing or stuck and the only solution is for you to wait it out. You can only wait as the traffic on the servers of Apple begins to ease allowing your download to resume.
Media Files. One of the most common problems that can result in an iOS 8.1 frozen during download is due to media files. However although it is annoying, this type of problem can be easily solved. For example, if you download a podcast and it freezes, you should wait it out and try it again later. You should keep in mind that podcasts normally lags when downloaded especially if the host server is not available.
These are just some of the most common ipad problems and the solutions to fix an IOS 8.1 frozen during download. Make sure to keep them in mind. If none of these solutions work, you should consider going to a technician to help you fix it.

About the Author: